THE TOP 6 BEST RULES OF MODERN WEB DESIGN 
Even the most innovative and expensive ads will get a visitor to your website only once.
Only ONCE, you ask? Yup.
Well, your ultimate goal is turning visitors into leads, and lasting customers. You want the people to keep 'coming back for more'. So how can you achieve this? Quite simply, you're looking for a modern web design, and valuable content.  
Now more than ever, websites can make or break your business. An updated and modern web design is an absolute MUST! Your website is the primary place for people to find you online, research you, and to decide if they trust you. Smart businesses know their website is the cheapest and often most important shop front they have.
As a savvy entrepreneur, you want leverage when it comes to your online presence. No worries – we're here to help! Here are the 6 Best Rules of Modern Web Design, to help you quickly convert leads into loyal customers!
RULE #1 – SIMPLE WEBSITES ARE BEST 
No matter how sophisticated internet technology becomes, simplicity will never go out of style. Our favourite sites (and probably yours, too!) have always been ones which feature an updated, modern web design, plus easy navigation. You will notice these sites are extremely successful. They not only contain valuable information, but are easy to use, and fast-loading. 
Unless you're in the entertainment or tech industry, people are not expecting the newest web applications, or advance audio and video. Besides, these extras usually just slow things down and get in the way of the real content.
This is not to say that your website should be boring. You want to capture the user's attention with a modern web design. This includes components such as: a simple layout, easy navigation, appealing images/photos, and good content. Most importantly, you want your visitors to know right away the answer to the question "what's in it for me?"
The bottom line here is – you want to get to the point. New visitors should be able to find out exactly what your company or product can do for them in less than 15 seconds. 
In other words, apply the KISS concept. Keep It Simple – Silly 
RULE #2 – KEEP THE USER IN MIND
You want to get an honest (and objective!) opinion of how effective and easy your website is to use.We suggest having a friend or family member click through it. In the meantime, take notes on where they click and how long they remain in each area.
Next step, it to interview them about your site. Did they understand each link? What kind of feeling did they get when they first saw your home page? How would they define your product and your company values based on your website? Do they see a reason to go back and visit again?
Furthermore, always provide a link back home. No matter where a visitor ends up on a site, they should easily be able to return to the home page. If your site provides links to other URLS, don't lose visitors by not giving them a quick path back to your site. Creating an extra browser window or mini frame are both good ways to keep visitors from straying too far.
Outside feedback can be extremely valuable, so take advantage of it. You may have to set your ego aside, but it's definitely a small price to pay for success.  
RULE #3 – DETERMINE WHAT TYPE OF WEBSITE YOU ACTUALLY NEED
Maybe you're reading this, and you've never owned a website before. Or maybe you already have a website, and are looking to update it or build a totally new one. Whatever the case may be, you will need to determine what type of website will be the best fit for your personal or business needs. Start by asking these questions:
Am I selling goods or services? Then you will need an Ecommerce/Online Store. This will provide you and your customers with a fully functional, secure, payment gateway, which is easy to connect and use. You also want to be able to add an unlimited number of items/products, with different attributes and variables.
Am I wanting to promote a blog, event, cause, or business, without selling any type of service online? Then you will need a basic Informational Website. This type of website provides resources for potential and active customers, subscribers, and investors. These websites are usually content heavy, with an emphasis on design.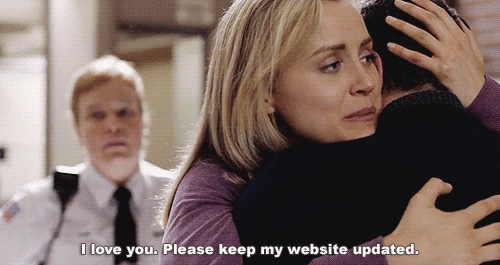 How many years should my website's current design last?
The shelf life of your average website design is about three years. In five years, a site shows its' age. However, what doesn't change is the site architecture and the core pages, if they were built strategically.
It's good practice is to touch up the design every year or so, after looking at what the rest of the market is doing. Even popular social networks change in that time. Therefore, if you have a blog with social-media share buttons, you may need to swap one network for a newer, more popular choice.
You know that term "keeping up with joneses"? You can apply that here.
RULE #4 – MASTER THE ART OF CONTENT CREATION
No doubt about it, every year the content-quality bar rises. Content that would be shared like crazy in 2016, looks average at best in 2019. Big brands are noticing that content is a great way to get attention, and sell stuff! Furthermore, video is proving to be an important competitive element. I wouldn't say content is getting exponentially better, but I feel comfortable saying it doubles in awesomeness every five years or so. 
The big brands of the world are shifting their marketing budget from traditional channels to online channels. They're spending unreal sums of money to create amazing content. And it's now getting harder for small brands and start-ups to have any slice of the "attention-pie". 
The first time you start to measure how your content is performing, you might end up disappointed. Maybe some tears will be shed. But do not despair! If you want to know how well your content is doing, have a look at the amount of:
Social shares: this gives you an idea of which content is being shared.
Backlink count: this gives you an idea if any other websites are linking back to your content, which shows authority
Check your analytics reports and see which pages are most popular and how much time is being spent on them.
Also, take time to proof all your updates and content with the care. Broken links, typos, and grammatical errors make your site lose credibility. 
There's no escaping the fact that it sucks to find out that the content you've spent time on just isn't helping your business. Or isn't helping it enough to justify the time spent.The hard truth is that without measurement, almost everyone can overestimate their content. And once the data is there, egos are ruffled. But there is something thrilling about measuring your content. It means you can improve, learn from your missteps, and celebrate when content actually works.
For more information about creating amazing content, check out our article The Jump-Start Guide to Creating Amazing Content.
RULE #5 – PEOPLE LIKE CONSISTENCY
It's important to be consistent throughout your website's branding. Using the same font color schemes will give a familiar and comforting impression to your visitors. You will want to apply the same concept for the logo. The logo is most commonly placed on the top left corner of a web page. The logo helps viewers identify your website when they first land on your page. 
Also, you want to refrain from underlying text unless it's a link. Doing this will often be confusing to the user. If you want to put emphasis on a word or phrase, consider bold or italics instead.
It's also a good idea to create a designated spot on your home page to showcase new or updated content. In other words, keep new content in the same designated area. That way, repeat visitors looking for the same information they found before won't be confused by the change. In addition, you will want to ensure new content is dated. This will encourage new visitors to return to your site again to see something new.
RULE #6 – GET VISITORS TO LEAVE THEIR EMAIL ADDRESS
You want to encourage users to give you their email address. Creating a database of names and gathering information about your customer base is one of the reasons you have a website! Give users an option to be included on your mailing list. Then email coupons, links, and news updates, to spark some interest and keep them coming back for more!
Remember to include "email a friend' links or other content that gets people talking about your product.